Popbasic / high quality staples
03:46
I came across
Popbasic
while I was shopping online one day and I was like, "This is such a brilliant idea! Why didn't I think of this?"
So what exactly is
Popbasic
? It's an online store that launches a
"micro collection"
each month and they would have 3 high quality, versatile pieces in each collection that would go together perfectly or separately!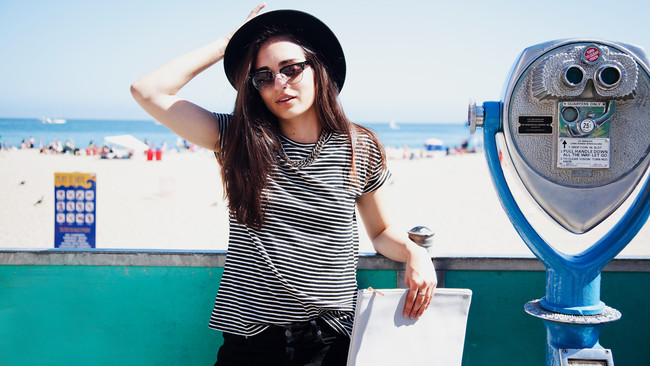 In this month's Wanderlust collection, they have a light grey draped cardigan, a must-have striped tee and a chained necklace that goes with every casual outfit. I like how the store sells the micro collection as a set, and they are priced reasonably at $78.
I managed to get 5 minutes of Popbasic's co-founder, Madeline's precious time and asked her a few questions!
Tell me a bit about yourself?
I'm the co-founder of Popbasic, a women's fashion brand based in San Francisco. I originally grew up in Australia and moved to the US to follow my dream and launch Popbasic.
Where are you from and tell me something about your city!
I grew up in Brisbane, Australia but now live in San Francisco. Perhaps I'll tell you something about both cities? Brisbane is a beautiful little city that is built around a river. It's warm all year round and I will probably always consider it my 'home'. San Francisco is amazing! I love my new city, there's always something fun and exciting happening on every block and something new to discover.
What can't you live without?
My fiancé and my dog, Delilah.
Tell me a secret!
Not really a secret, but I'm ashamed to say I didn't get my driver's license until I was 26.
What do you do when you're not busy with Popbasic?
I like to sit in cafes and catch up on reading fashion blogs, and interesting articles that I've squirrelled away on my Pocket app.
What inspired you to start Popbasic?
I was constantly rummaging through my wardrobe trying to make outfits and I realised that the basics were missing. They're essential to building the perfect wardrobe. So I set out to create a service to help other women build their wardrobe of basics alongside 'pop' pieces.
What can we expect from Popbasic in the near future?
We're bringing back our very first Popbasic piece, our Basic Polka Dot Blouse in black with white polka dots, and also white with black polka dots.
Here's some good news! You can $15 off the micro collection when you
click here to buy
! Now you get 3 stunning, versatile pieces at $63. Additionally, they have
free shipping worldwide
. That's my 3 favourite words when shopping online.
Thank me later x
Alternatively, you can get your basic striped tee at
Columns & Row
.